Using Card View to Create Customized Views of Your Organisation
The Card View within FusionGraph can be used to provide a hierarchical view of layer data items. This can be very useful in visualizing things like Business Process data.
You can easily navigate, edit and export data from a selected layer. Also, you can easily see the layer's classifications and related layers, making it a perfect tool to build and maintain a Business Process Framework.
How to add Layers
To start, from the left hand menu you can add a layer to the Card builder area with the > button. Once you locate your layer, you can expand the arrows on the same box to view the data/items.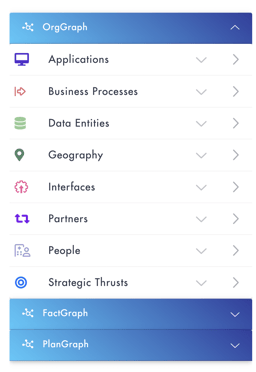 How to view Items on Layers
You can click on the down arrow/chevron next to your selected Layer. This will bring up all the level one items within that layer. You can then expand an item by clicking on the > button which will bring up the Card Builder area.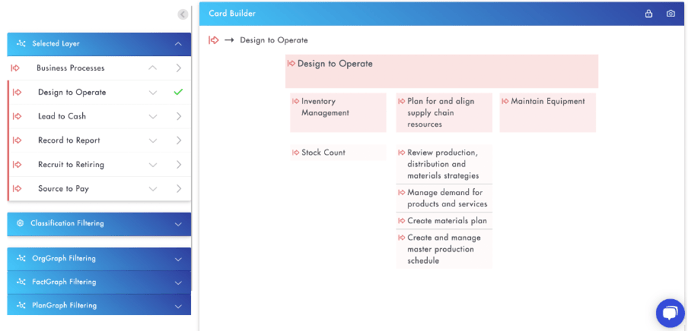 Breadcrumbs
Once you have added the layer/item to the Card Builder, it will appear in breadcrumbs. You can navigate using Breadcrumbs to open previously viewed Card Builder.

By clicking (single click) on any item in the Card Builder you can change the breadcrumb path to reflect that selection. A new card view can then be opened by clicking on the required breadcrumb in the header to show that item as the parent.