SAP S/4HANA business case and roadmap with FusionGraph
With FusionGraph you can discover, visualize and log new S/4HANA functionality that will enable your business strategy.
This helps you to build a strong business case for S/4HANA - one that will win the support of IT, the business, and the board of directors.
At Resulting, we believe that your business case for S/4HANA or any other tool should be based upon how your business will benefit and a great way to understand this is to analyse the specific features and functions that the new system includes.
FusionGraph has a number of tools to help you explore S/4. You can see what's new and what's changed, the Fiori apps that are available and also if you are migrating from ECC, what you need to watch out for.
Create your S/4HANA migration roadmap
In FusionGraph you can model your business processes and technology in as-is and future states to understand how S/4HANA will deliver your business strategy and the journey to get there.
Visualize your project plans and teams so you have all the information relevant to create your S/4HANA roadmap in one place.
Understand what's new, different and changed in S/4HANA
FusionGraph includes functional, technical and roadmap data for every release of S/4HANA.
You can use this to visually compare what's different between your current system usage and the latest versions of S/4HANA.
You'll have direct access to documentation and resources available from SAP in order to assess and curate the changes into your roadmap.
The most simple and straightforward way to find out what features are in S/4 is to explore the SAP Application Hierarchy. You can pick an area of the system and have a look at what functionality is new and has changed.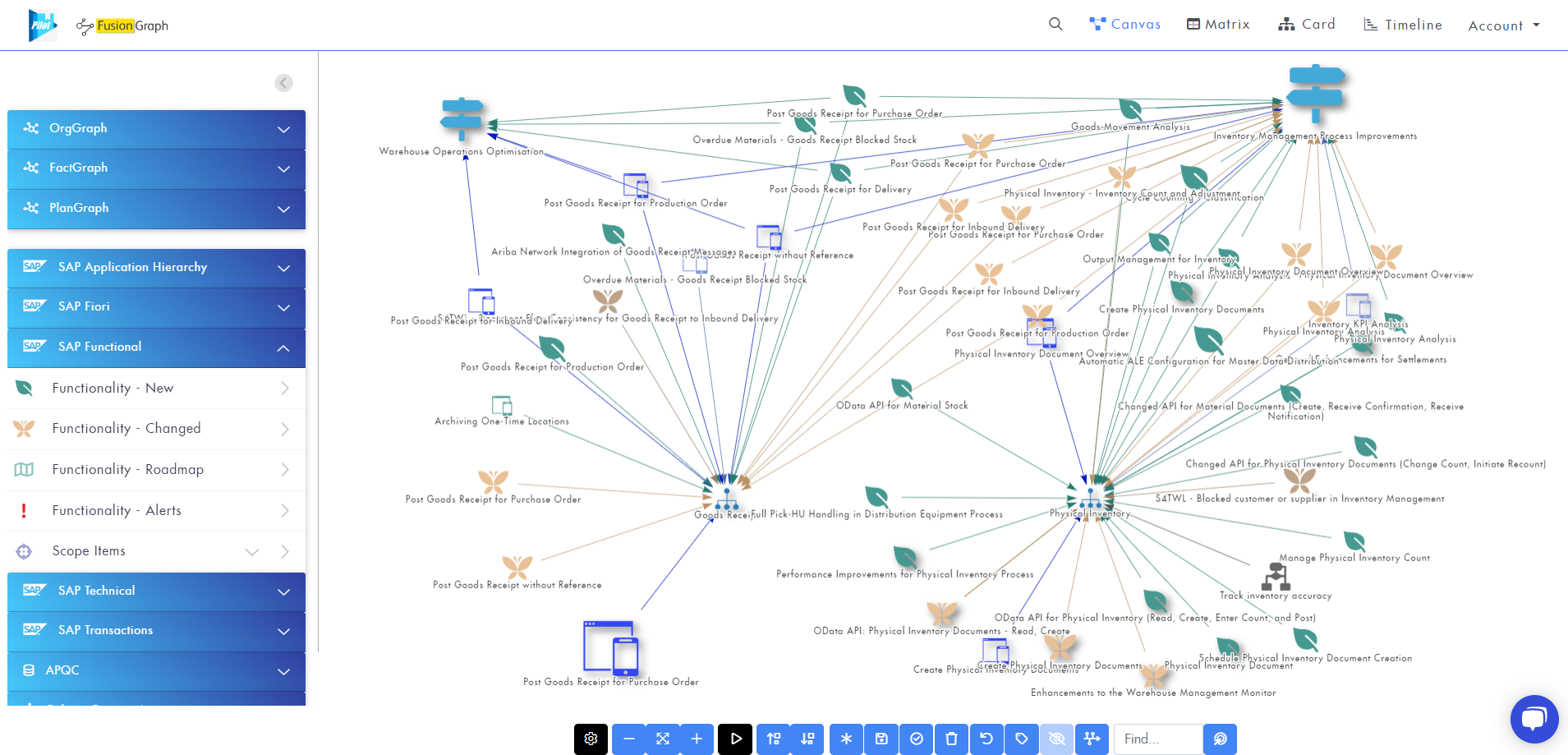 You can focus your search by targeting specific functions within SAP or by using the ST03 import facility to focus on those areas of SAP that you actually use. As well as helping you to understand what is new and different in S/4HANA, this is a great way of finding out what features have been removed or replaced, and understand what preparations you need to factor into your migration.
And once you've done this you can then start tagging the features of interest to roadmap items so you can start building out what will become your future state.
Identify which Fiori apps you could use
With Millennials and Gen Z making up an increasingly large segment of your workforce, it's vital you provide the latest and greatest user experience.
FusionGraph will help you identify the Fiori Apps you could be benefitting from today, as well as those which can feature in your future S/4HANA business case and roadmap.
Use APQC to help you define a best practice business process catalogue and KPIs
Without a Business Process Master List it's hard to build a business case.
FusionGraph includes APQC best practice business process frameworks so you can quickly define and build your business processes and start on your S/4HANA journey.
And, APQC best practice KPIs will help you demonstrate the value of your S/4 move. "
If you have built or imported your Business Processes, you can map your processes to the APQC process framework. This will allow you to see what's new and different in SAP in relation to your business processes - regardless of whether they are run using SAP currently.
This takes a little bit of investment in time to complete the mapping but the payback will be in more focussed searches and the identification of items relevant to you.
The filters within FusionGraph will then help you to narrow down the results of the search, to specific versions and allow you to prioritize your investigations.
If you would like our help to understand what is new and different in S/4HANA and how it can help your business, get in touch.